From Principals' Desk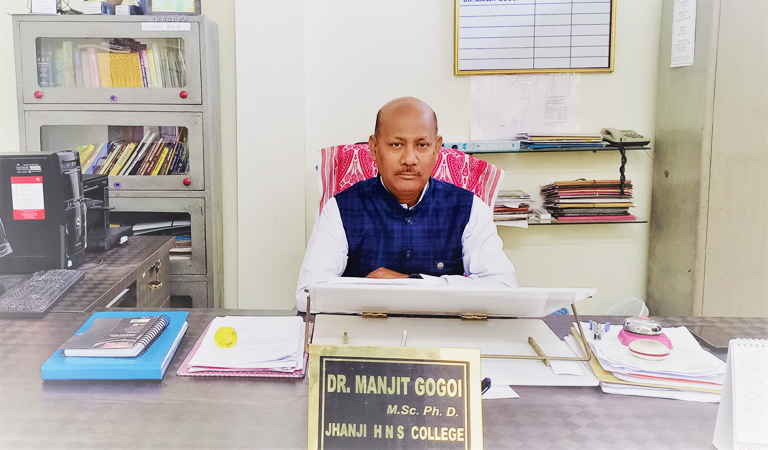 Dr. Manjit Gogoi, M.Sc, PhD
Greetings and welcome to Jhanji Hemnath Sarma College. The college was established on 25th July, 1964 at Jhanji –Jamuguri in the district of Sivasagar with a prime objective to improve and progress the economically and educationally the poor people of the surrounding area of Jhanji-Jamuguri by imparting quality and skill-based education to the students.
In its long historic journey, though the college has been facing some challenges of modern education to build a strong nation, the college has been able to increase its name both in curricular and non-curricular spheres with brilliant performances since its establishment. Our objective is to turn the challenges of the changing world into knowledge of opportunity for the future. Again, the motto of our college is "We are the seekers of knowledge beyond horizon" which attracts the spirit of students to seek and achieve knowledge in this institution.
In the wake of present competitive society, it is our duty to provide the students to cope up to compete with others in the national and international level. Therefore, along with the basic knowledge of core subjects we have equally emphasized on co-curricular and extracurricular activities in our college.
Technology like Video Conferencing, Wi-Fi, Internet, Email, projector etc. now gives more opportunities for students to learn and faculty to converse. It is efficient, convenient and protected. With these new alternatives, students in our college can enjoy digital classes physically and virtually. Others programmes are also organized digitally in the video conference hall and seminar hall where students and teachers can enjoy any programme comfortably.
The Union Cabinet of India has approved the National Education Policy of India 2020 (NEP 2020) on 29th July, 2020 to bring changes in the education system of India. Hope, the new education system will help the students in further developing their studies and move on to the national and international levels.